Rectors
Gori University Rectors

Giorgi Kharauli
Candidate of physical-mathematical sciences, Docent, the Rector of Gori N. Baratashvili State Pedagogical Institute in 1938-1973 years.
In 1925 graduated from Gori Humanitarian Technical Institute, and in 1927 from two-year pedagogical institution. In 1927 entered Physical-Mathematical Faculty of Tbilisi State University. In 1936 finished post-graduate courses at Moscow Geophysics Institute.
During almost 35 years, G. Kharauli led the service of educating students in this institute. Under his guidance, Gori N. Baratashvili State Pedagogical Institute acquired high respect as a status of the center for science, culture and education.

Special attention must be paid to the activities of G. Kharauli in establishing new departments and educational laboratories. Together with academics, sport and folklore were given great attention, and as a result, many distinguished artists and sportsmen were graduated from the Institute.
For fruitful work, G. Kharauli received many medals, diploma and honorary certificates.
Revaz Kandelaki
Candidate of historical sciences, Docent, Honorary Pedagogue of Georgia, Honorary Worker of Georgian High School, the author of 20 scientific-methodic works.
Scince 1953 up to 1977 he worked in Georgian Education Ministry. At the same time he conducted scientific-pedagogic activities in Tbilisi A. Pushkin State Pedagogical Institute.
In 1977-1985 years he was the Rector of Gori N. Baratashvili State Pedagogical Institute, and after reorganization the Rector of Gori Economic Institute (1985-1989).
Under his guidance both the material base of the Institute and teaching quality were improved. Educative society highly appreciated R. Kandelaki's scientific-pedagogical activities.


Gedevan Khelaia
Doctor of Economic Sciences, Professor, Academician of Georgian Academy of Economic Sciences.
In 1949, graduated from the Economic Faculty of Tbilisi I. Javakhishvili State University, with specialty Finances and Credits. Defended candidate (1964) and doctoral (1985) dissertations, received academic titles of docent (1970) and professor (1987). He made a career from laboratory assistant up to the head of the Department of Finances and Credits.
In 1989 he was elected to the Rector of Gori State Economic Institute. In 1999-2004 Prof. G. Khelaia was the Rector of Gori State University.
G. Khelaia is the author of more than 100 scientific works, 15 monographs and several text-books. His main scientific interests include financial circulation and credit problems.
Vianor Akhalaia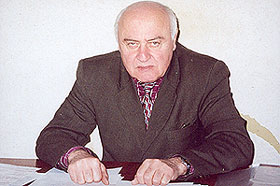 Doctor of philological sciences, Professor, the Rector of Tskhinvali Pedagogical Institute (afterward Tskhinvali State University) in 1999-2006. Graduated from the Philological Faculty of I. Javakhishvili Tbilisi State University, post-graduate courses; at the same time worked as an assistant of Vice-rector.
In 1973-1976 years worked in newspaper "Samshoblo". Since 1975 he works at the chair of Georgian language and literature of Tskhinvali State Pedagogical Institute. In 1999 he was elected to the Rector of Tskhinvali Pedagogical Institute. This was the period when because of hardship of those years Tskhinvali Pedagogical Institute with refugees from Georgian sector had already been functioning in Gori. In 2000, by the resolution of the president of Georgia Tskhinvali State Pedagogical Institute received university status. Six years Prof. V. Akhalaia led the University.
Prof. V. Akhalaia is a successful language expert. He is the author of two monographs and many scientific works.
Klara Elchibegashvili

Candidate of philosophical sciences, Professor graduated from the Faculty of Philosophy of I. Javakhashvili Tbilisi State University, post-graduate courses of the same University, and defended candidate dissertation.
Since 1968 she worked in N. Baratashvili Gori State Pedagogical Institute. Many years she served as Vice-rector in scientific section and the Head of the Chair of Philosophy.
Prof. K. Elchibegashvili is the author of two monographs and 21 scientific works. In 2005-2007 she was the Rector of the University.
Zaza Tsotniashvili
Doctor of Philological Sciences, Professor, LEPL – Gori University Rector in 2008-2009, Acting Rector in 2007-2008 and Tskhinvali State University Rector in 2006-2007. Mr. Tsotniashvili graduated from Tskhinvali State University Faculty of History and Philology and Tbilisi State University Post-Graduate Course with the specialty of Contemporary Georgian Literature; defended his Candidate`s thesis "Georgian Short Story in the 90s of the XX century" in 1998, and Doctor`s thesis "Georgian-Ossetian Relations in the Press at the turn of the XX-XXI centuries". Mr. Tsotniashvili finished the European School of Management (ESM-Tbilisi) with the specialty of Management and Administration.
Zaza Tsotniashvili is the author of 3 monographs, 27 scientific articles and more than 150 publicistic letters. He conducts fruitful translation work.
Aleksandre Mghebrishvili
Candidate of Philological Sciences, Full Professor in Journalism at Gori University at the Department of Social Sciences, Business and Law. In 1997, graduated from Tskhinvali State Pedagogical Institute, faculty of History-Philology, was a scholar at of Shota Rustaveli Georgian Literature Institute of the Georgian Academy of Sciences. Defended his candidate's thesis in 1999. In 2005, his Doctor's paper "XX century Georgian-Ossetian-Jewish Relations" was accepted.

At different times he worked as a teacher of Georgian Language and Literature, History, Religion and Culture. In 2006-2010 he was the director of Gori Public School # 5. He is a member of Georgian Journalists Federation; he actively collaborated with the newspaper "Literaturuli Tskhinvali".

Aleksandre Mghebrishvili is the author of 8 monographs, 35 scientific articles and 200 newspaper publications.